Aries Daily Horoscope for May 23, 2017
It's time to give that horse one last lash and let it rest in peace. At this particular moment in time, it will be far easier to get mad and stay that way than to forgive and forget; but that doesn't mean it's the best thing to do. In fact, if you're really still interested in keeping things together between you and the person you've been feuding with, why not lay all your cards out on the table, be totally honest and get the problem solved once and for all?
Taurus Daily Horoscope for May 23, 2017
If you need time to mull something over, take it. It's definitely your turn. After all, you'll absolutely need some time alone now. Of course, you may have to fight for it. In other words, rearrange your schedule, cancel some plans you've had for a while, or put a certain social engagement on hold. It's not pleasant, of course, but you'll just have to do what you have to do to preserve your sanity.
Gemini Daily Horoscope for May 23, 2017
You may not be your usual assertive, aggressive self, but that's nothing to be ashamed of. Everyone who knows and loves you will understand, especially based on what you've been dealing with lately. Okay, you can stop worrying about your big, tough reputation and come out of hiding already. Just do yourself a favor and don't go overboard trying to prove yourself. It's okay to crack.
Cancer Daily Horoscope for May 23, 2017
Show a little more compassion today, no matter how painful it is. Those you usually find to be great fun to hang around with may not be quite so much fun now. In fact, you could become a bit more irritated with them than usual. If that happens, take a step back and look around. Sure, they may have more energy than you can deal with, and they may be quite determined to have their way, but isn't that what being young is all about?
Leo Daily Horoscope for May 23, 2017
You may feel you're absolutely right when it comes to your point of view, but if pushing the envelope causes a long-term rift between you and someone you care about -- someone you already haven't seen in far too long -- think about the cost of winning the battle and losing the war. Instead of going all-out to win, be ready to compromise. Don't let petty issues get between you and a long-distance loved one now.
Virgo Daily Horoscope for May 23, 2017
There is a happy medium and you, of all people, can manage it: Be direct, but civil. If you're irritated with a loved one now, they're certainly going to know about it. In fact, everything you feel will be quite obvious to whomever you're with, and those feelings will last for a long, long time. That means you have a decision to make: Are you going to be polite and stifle what you're feeling or just let it out?
Libra Daily Horoscope for May 23, 2017
While you're waiting for the universe to catch up with what you want to do, make plans. Sticking to your routine will be far easier than breaking out of it now, even if you're in the mood for change. You can spend this time wisely by deciding what your next move will be -- this makes much more sense than just sitting there, tapping your fingers on the table -- or you can make excuses. That's not really a choice, is it?
Scorpio Daily Horoscope for May 23, 2017
Buckle your emotional seatbelt -- you're about to hit a rocky patch on a rough journey. You may need to travel or make contact with someone who's quite a distance from you now -- and it's probably going to be for some very serious reasons. The good news is the end result will make you feel good about yourself and far more secure in all your relationships.
Sagittarius Daily Horoscope for May 23, 2017
It's time to lay all your cards on the table, for better or worse -- and it's going to be for the better. It's time to say goodbye, to a friend, a lover, a toxic relationship or a bad habit. Don't take this farewell lightly. When you get a surprised stare instead of an actual response, don't be upset. They're just not as prepared for this as you are.
Capricorn Daily Horoscope for May 23, 2017
Get the show on the road as far as your finances are concerned. Money matters have been problematic lately, but it's all going to clear up soon. In fact, an action you take, over the next few days will do wonders to rectify this situation in the long term. That goes double for yourself, especially if you've been avoiding a certain issue. You'll know exactly what to say and do, so why hesitate?
Aquarius Daily Horoscope for May 23, 2017
You're far more interested in tending to someone's emotional problems than taking care of business. Of course, those two things may end up being one in the same. If anyone starts complaining -- or worse, whining about your lack of compassion -- tell them you're fed up with the shenanigans and you're adopting a new, tough-love approach. You're a force to be reckoned with.
Pisces Daily Horoscope for May 23, 2017
Take your time and look around. What's the rush? You're in the mood to rush out and buy something -- something that's not exactly what one might call a minor purchase. It's got to be different, though, something that no one else would want. If you're sure you can afford it, go ahead. Just don't allow yourself to be talked into buying something you don't really need by someone who's skilled at that sort of thing.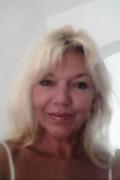 4162
Available
Skills
Clairvoyant, Clairsentient, Clairaudient, Psychic, Reiki Healer
Tools
Tarot Cards, Pendulum, Angel Cards
Subjects
Love/relationships, Career/work
Languages
English, Spanish