Aries Daily Horoscope for December 08, 2019
Feel free to consider yourself first today! It's not about being selfish, it's about putting things in the proper priority. For too long, you have been putting the needs, wants and wishes of other people way ahead of your own priorities. This was wise and accomplished a lot of good things for you—not to mention all the karma points you racked up. But today, it is your turn. Say no to something you don't want to do, and do not feel guilty for doing so.
Taurus Daily Horoscope for December 08, 2019
Have you been giving someone the silent treatment? It won't do you much good—you can't make your point unless you clearly communicate what you are feeling and what you need. People cannot read your mind. So get in touch and clear the air. If you are the one who is getting the silent treatment from someone else, reach out and check in with them. Find out if they are ready to talk. Approach things compassionately and with all your defenses down.
Gemini Daily Horoscope for December 08, 2019
Right now your reputation is shining brighter than ever, but that only means that it's more important than ever to maintain its spotless sheen. You have far too much to lose by putting only half your energy into whatever you're doing, so resist the urge to put things on auto-pilot at any point today. Give this day one hundred percent, and prove to the powerful people who are watching that you are the real deal—not just someone bluffing their way through life.
Cancer Daily Horoscope for December 08, 2019
At a loss for words regarding the ridiculous comments of a friend? Don't think about things from a political angle—just listen to your intuition and do what it says to do. If you overthink things, you will get caught up in a bunch of stuff that just doesn't matter. Your ideas around school or work are getting a lot more attention lately. You could be asked to explain yourself a bit more—this is your chance to sell a strategy that could put you on the map.
Leo Daily Horoscope for December 08, 2019
Today you would be wise to try to get some alone time—do not let social expectations drive you out into the world if you're not feeling it. If you're feeling the urge to be a homebody, be a homebody! Others might react emotionally to your choice, but that shouldn't sway your decision. The bottom line is that your life is yours to do with whatever you want, good or bad. Work pressures are easing, so expect a lot of free weekday nights. Enjoy them.
Virgo Daily Horoscope for December 08, 2019
While planning a big event might not be your favorite activity of all time, it is something you will be very good at today. People around you will not be as organized as you, so you should step up and take charge. Base your choices on simple pros and cons, deadlines and dates. If you want to move beyond your current phase of life, you are going to have to get a better plan together. Enlist help from your most organized friends and learn from the masters!
Libra Daily Horoscope for December 08, 2019
A heated debate between you and someone else today could create more than just an intellectual connection—it might just trigger some romantic feelings as well. Opposites attract, and getting a glimpse into how someone else's mind works can be a very attractive and alluring thing. Be careful about jumping on these feelings too soon, however—make sure that they are available and interested in exploring new options. If they are not, you can look forward to more conversations.
Scorpio Daily Horoscope for December 08, 2019
If you see a chance, take it today—that applies to any type of opportunity, but especially to the romantic kind. When someone holds your eye contact a little too long, smiles at you a little too broadly, or asks some personal questions about your availability, they want to get to know you better. Go for the romance today, even if you feel like you might be acting silly. What's the point of looking cool all the time if no one knows who you really are?
Sagittarius Daily Horoscope for December 08, 2019
All the willpower you've been relying on lately is still going strong, so have no worries that you will succumb to any irresistible forces today. The charm that your vice holds for you is fading—you just need to keep abstaining, and soon you will lose your taste for it altogether. Plus, if you encourage your newly found inner strength to grow, you will be able to use it in different contexts in your life. Get ready to begin a very empowered phase of living.
Capricorn Daily Horoscope for December 08, 2019
The people who are important to you probably do not realize how important they are to you, so it's up to you to make them understand. Use your creative writing abilities to let them know—follow whatever method fits you best, whether it's email, a greeting card, or a long heartfelt letter. Don't take these relationships for granted. They require your attention from time to time. Sharing how you feel will make them feel good and more important it will make you feel good.
Aquarius Daily Horoscope for December 08, 2019
Mistakes happen, and unfortunately sometimes mistakes happen at very inopportune times. Today, a voice of authority will prove that it doesn't quite know everything—and you'll be extremely inconvenienced by it. You may be mislead by your bank account, your boss, or maybe even your partner. There is no point in getting angry about it—it wasn't done on purpose. You'll just have to fix it and move on. This bad luck will be blissfully brief, however.
Pisces Daily Horoscope for December 08, 2019
You need to start understanding that expressing yourself is necessary to get you to the next level of happiness. In other words, for a healthier life, you need to share your feelings—no matter what they are. So today, whenever you feel something, express it in the most original and creative way you can. Singing, dancing, cooking or even just goofing around are all great ways to display how you're feeling. If you keep your emotions inside or mask them, you'll be wasting your time.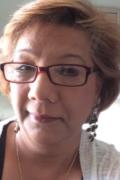 4146
Available
Skills
Clairvoyant, Clairsentient, Clairaudient, Life Coach, Counsellor, Medium, Psychic
Tools
Tarot Cards, Crystals, Angel Cards
Subjects
Love/relationships, Career/work, Pets/animals, Destiny/life path, Lost objects, Lost people/pets, Past lives, Deceased loved ones
Counselling
Counsellor, Life Coach